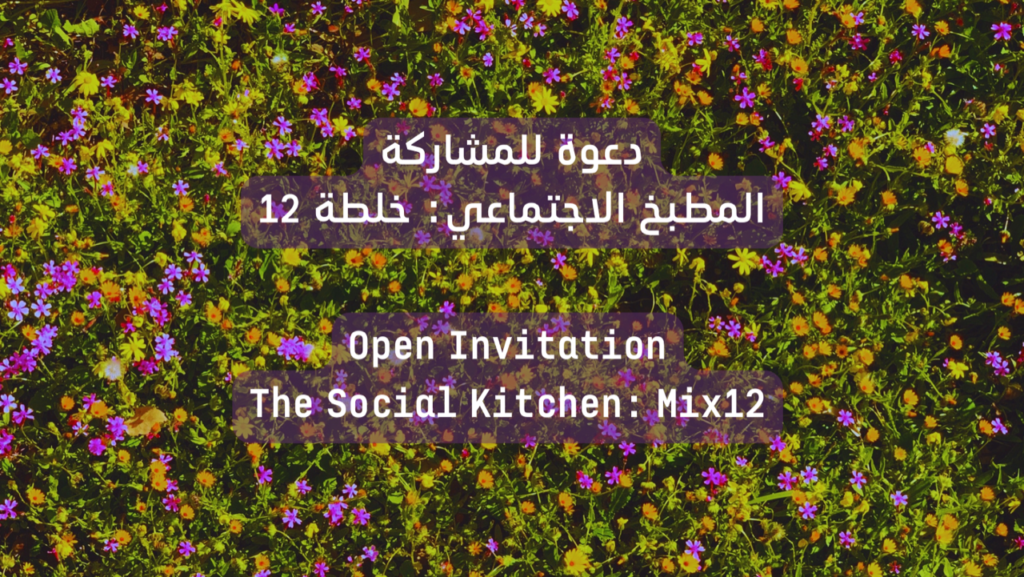 Invitation
The Social Kitchen
Mix 12
March 17-June 16/ 2023
In the spirit of slowing down, reconnecting, and re-engaging, we are excited to welcome you to be part of the first batch of our latest Taghmees recipe: The Social Kitchen – Mix12.
One of our greatest learning from over a decade of living taghmees is that diversity is essential and that our learning is richer and deeper when done in community. So many beautiful beings have crossed our paths throughout the years, spinning their threads in and out of our weave, nourishing our soils, and adding their unique spice to the mix, for which we are truly grateful.
The Social Kitchen – Mix 12 is an extended mujaawarah, where we hope to be joined by a small group of seekers and learners, who are similarly willing and excited to walk a path of learning through taghmees, with our hands, with the land, engaging in a joint exploration of our individual consciousness and collective entanglement.
Together, we will be immersing in difficult questions, stretching our skins, our hearts, our muscles, and our minds, opening our pores to whatever is present, mindful of the poison, while cooking up the medicine. Together, we will design our learning engagements as an extension of our dreams, passions, and curiosities, rooted in nature and its many cycles.
We make no promises, but we are full of hope that we will share joy as we share work, and that if there is pain, that it be like healing and birthing pains, hard and real, yet necessary for making way for something better.
The Social Kitchen – Mix 12 will take place over three months, starting mid-March through mid-June, with precise dates for gathering determined by us as a group. We will be drawing on a range of Taghmees favorites for our learning, beginning with a two-day mujaawarah on Friday, March 17th, 2023.
If you feel called to be part of The Social Kitchen – Mix 12, please fill out this form by March 13th, 2023 and we'll be in touch!
Important note:
During the social kitchen period, we will go in a mujaawarah outside Amman for 3 days / 2 nights (with an overnight stay).
There are additional costs for the mujaawarah, the aim is for each person to cover his/her own cost, or others contribute a part of his/her cost. We hope to support each other and support Taghmees learning activities.
I can pay:
– 15 JDs to cover the basic costs, our food and our transportation, as we will cook and share food together.
– I can pay any additional amount (above the 15 JDs) up to 40JDs, and it covers the cost of other participants and support Taghmees learning engagements.
What is a social kitchen?
A social kitchen is a space for creation, where we are all equal, where we can learn and teach, where we can create together, where we take time and slow down, where we make things that bring joy to ourselves and others, where we can experience things in their most basic form, where heritage is preserved and new recipes inspired, where we make, engage, and savor, where we can wonder and trace things to their source, where no matter how much mess we make, there's always something we can salvage and a way of cleaning up.