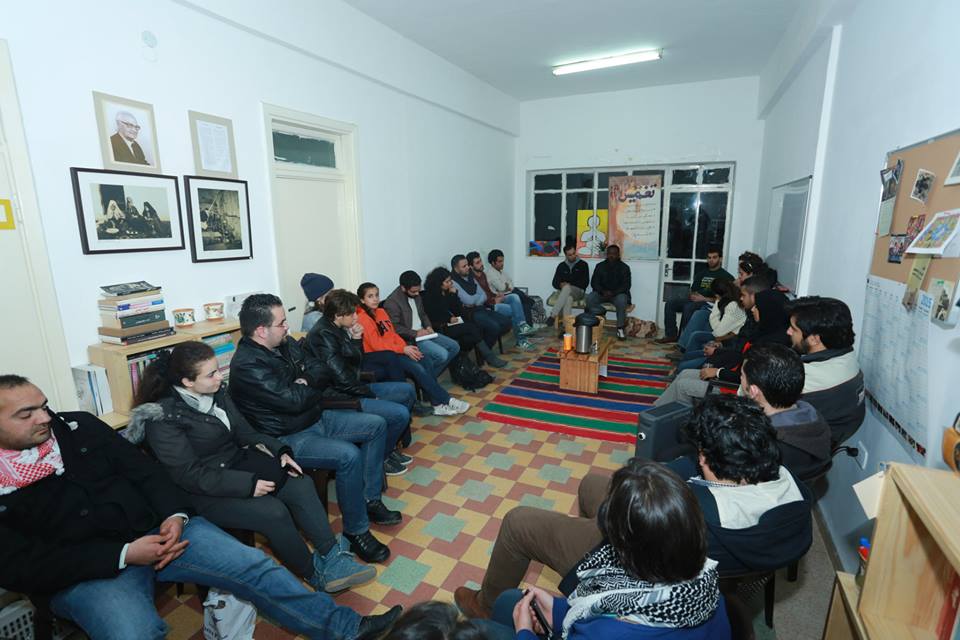 في آخر تغميسة لنا بالإنسانية أردنا أن نتوقف لبعض الوقت لنفكر بمعناها وبتجارب عشناها حرّكت شيء بداخلنا. في هذه الفسحة الفكرية بدأنا بوقفة صمت نعبر فيها عن حزننا لأشكال القهر والعنف المختلفة التي نراها بالعالم وعن إنسانيتنا الضائعة.
هذه الجلسة كانت طريقنا لنتحدث عن أشكال الظلم التي نراها كل يوم، القريبة منا والبعيدة، ولكن مع أسلوب الحياة السريع الذي نعيش لم نَعُد نحرك ساكناً وأصبح كل شيء "عادي"، وأصبحنا نقيس إنسانيتنا بعدد الذين يموتون أوعندما يُدق أقرب باب ليشعرنا بالخطر.
بدأنا بسؤال ما هي الإنسانية وكيف يمكن لكل شخص أن يعرّفها؟ كان من الصعب أن نجد تعريفاً لهذه الكلمة المرتبطة بكينونتنا. تساءلنا عن سبب إرتباط الكلمة بشكل مباشر بالمآسي والكوارث الإنسانية التي نسببها لبعضنا البعض، ولماذا تختفي بإختفاء الُمسبب.
ذكرنا بأن الإنسانية محاولة لتهذيب الإنسان وبأنها شيء من الصعب أن يقاس، نولد معها وتشكل ما بداخلنا، وهي أكبر من أن نضعها بقالب واحد وتذهب بنا إلى تساؤلات أكثر من إجابات.
وخرجنا بمجموعة من الأسئلة، ماذا لغى إنسانيتنا؟ ما هو الإنسان؟ وهل تعريف الإنسانية مربوط بألم الآخر؟ ما هو دور الإعلام بتعظيم أمور مرتبطة بالإنسانية؟ وما هي المعايير التي تجعلنا نتعاطف مع قضية دون الأخرى؟
قد نكون إنسانيين برؤيتنا لأبسط وأجمل وأصغر الأمور، عندما تتفتح الزهرة وتثمر الشجرة وعندما نحب الخير للآخرين وبأبتسامة نراها على وجه من يُحب ونُحب. من الممكن أننا نحرم أنفسنا من الإحتفال بجمال أبسط الأمور ولكن كلما أجلّناها كلما أصبحت إنسانيتنا بعيدة عنا أكثر وأكثر، نعيشها للحظات آنية وبطريقة فوقية لتعظم "الأنا" التي بداخلنا بدلاً من أن تهذبها.
كل الشكر لطمي للتنمية الشبابية على الإستضافة ولكل من كان معنا من الأهالي الجدد والقدامى.
Our latest taghmeeseh into humanity was a mixture of the bittersweet, as it allowed us to celebrate the best in us as human beings, as well as reminding us of the worst.  Living in times of war without end and profit before people, it is no wonder that our humanity poses a difficult question.
What is the measure of our humanity?  How can we retain our humanity when people are more often being reduced to mere numbers?  How can our humanity survive all the suffering in the world?  What aspects of our humanity can we celebrate?
Our thanks to Tammey for Youth Development for opening your doors to us and to all ahel taghmees who were able to join us for this thought-provoking and emotional engagement.